FISHERY & CITRUS FARMING
|LOCATION| HISTORY | LIFE | FISHERY & CITRUS FARMING | MY FATHER | ABOUT MYSELF |
TO THE TITLE PAGE
What We Face in the Islands
A Word from Our Ancestors
---
Nakajima Orange
| | |
| --- | --- |
| Picking Iyokan | Grading Oranges |
Triple Sunbeams
make
Nakajima Orange
So Special!
Sunbeam Reflection from the Sea

The Triple Sunbeams

1. A direct sunbeam

2. A sunbeam reflected from the Inland Sea.

3. A sunbeam reflected on the sloping stone floor.
Growing oranges near the Inland Sea brings a wonder of triple sunbeams making Nakjima orange so special. Of course, living near the sea is often troublesome. You could get a typhoon and destory your entire operations. But on the other hand, you can enjoy triple sunbeams, which make Nakajima Orange so special.
---
Flatfish Culture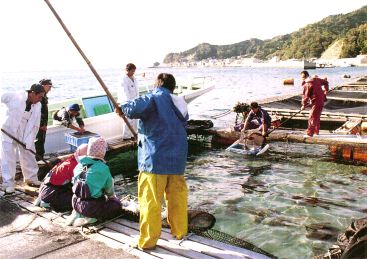 Catching flatfish for shipping
Maintaining Fishnet

Another Option for the Future

The main industry of Nakajima is orange growing but flatfish culture is also popular.

The number of people who works for this industry is about 30 people, and with the people who want to stay and work in our hometown, the figure is increasing little by little.

One of the reasons for the increasing number of this industry is the orange farming is getting very competitive with other major production areas in Japan and imported oranges, plus this new industry in Nakajima survived the typhoon in 1991. The town see this is another option for the future of Nakajima.

The tide of Inland Sea around the islands flows quite fast and keeps harmful bacteria away from the flatfish.
---
|LOCATION| HISTORY | LIFE | FISHERY & CITRUS FARMING | MY FATHER | ABOUT MYSELF |
TO THE TITLE PAGE
To the Top