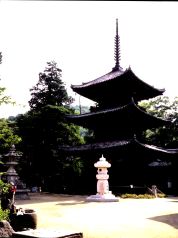 51st. of 88 sacred temples in Shikoku
This temple, the 51st of Shikoku Sacred Temples, lies 1km to the east of Dogo Hot Spring. The temple contains the Nio-mon gate, a national treasure, and other buildings that are designated as important cultural properties such as the main hall and three-story pagoda. It is worth paying a visit to the treasure hall, where more than 300 articles of the temple's treasures are exhibited.
copyright(c) Matsuyama City Office
ü@
Story of Ishiteji (A-stone-and-hand)
Saburou Emon was a rich man in this district and very greedy. He did'nt notice that the traveler, who asked him for charity, is Kobo Taishi (Saint Kobo) and smashed the bowl in his hands into pieces. The bowl spli t and scattered to every (eight) side. After that, Saburou Emon's eight children died one after another. At last, he decided to embrace a religion and went on a pilgrimage in Shikoku right on the heels of Taishi. It is said that Saburou Emon is the founder of the pilgrimage in Shikoku. He came across Taishi at last in the holy temple No.12 at the 21st of the pilg rimage in Shikoku and he was forgiven for his sin just before he died at the end of his strength. At that time, Taishi handed him a small stone. After that Okitoshi Kono, the head of a powerful family in Iyo, had a son who clasped a stone tightly in his right hand and wouldn't let it loose. Okitoshi prayed for his son to Ankyouyou-ji Temple of that time, and the son opened his hand.
After that time, it has been said that the Temple began to be called "Ishiteji Temple". "Monju-in" in the direction of Joururi-ji Temple was called the remains of Saburou Emon's residence.