---
Matsuyama Castle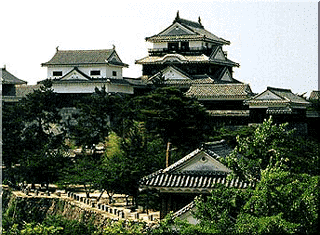 Matsuyama Castle, located at the top of Katsuyama hill at the center of downtown Matsuyama, was constructed by Yoshiakira Kato. Started in 1602, it took 26 years of painstaking work to complete. This castle is a symbol of the tourist city of Matsuyama and also is widely known one of the three multiple-wing castles in Japan which are built on flat-top mountains, the others being Wakayama Castle and Himeji Castle.
Though the main donjon was 5 stories originally, Lord Sadayuki Matsudaira remodeled it to 3 stories. It was destroyed by lightning in 1784 and the present donjon was reconstructed in 1820. It has three stories and a basement. The small donjon, which is second in importance to the main donjon, was destroyed by fire in 1933 and was reconstructed in 1968. The donjons, as well as many of the gates and turrets for defense, are designated Important Cultural Properties.
You can see the Ishizuchi mountain chain to the east, the Seto Inland Sea to the west, and a panorama of the whole city from the top floor of the main donjon. The trees of the Castle Hill, according to the four seasons, such as cherry blossoms in spring, fresh green in early summer, and red leaves in fall, attract and ease the minds of citizens and tourists.

---
To this page's top