---
Story of Yoshiakira Kato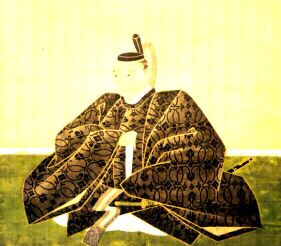 Kato was a very clever man.
He chose the Tokugawa side in the battle of Sekigahara and so he was rewarded when Tokugawa became shogun. Kato asked to build a new castle, the one he had at Masaki was small and not strategically located. Many local lords were rebuilding and they had to get the shogun's permission in order to do so. They were required to submit an official request giving first, second and third choices for a site. Kato had heard that the shogun often granted the second choice thinking it would not be so strong. So Kato made Katsuyama (the present site) his second choice and numbers one and three were the hill behind Gokoku-jinja and one of the small hills near Hoshigaoka.
Kato won. The shogun decided on the second choice and Kato got what he wanted.

Reproduction of painting of Yoshiakira Kato, Museum of Ehime History and Culture.
This story is introduced and provided to us by Ms.Ruth Vergin, who supports us in many ways.
---
To this page's top