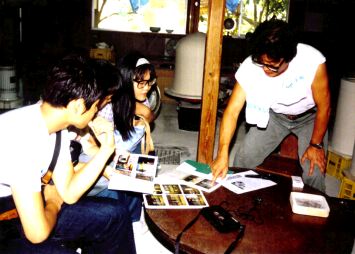 Last summer of 1998, we visited Mr. Shirakata and interviewed him for about an hour. He welcomed us, and told us about many interesting stories about tobe pottery and himself.
---
Q: Mr. Shirakata, please tell us why you made " The Blue Planet of Life"?
" It has been 25 years since I was dispatched as a member of the Japan Overseas Cooperation Volunteers to the Philippines. My duty was to teach pottery making techniques to local people.
During my two-year stay, I shared their food, spoke their language, worked with them, and learned much in return. However, I realized that the biggest lesson I had learned was of more worth than anything I could have ever taught them. I learned that the essence of international exchange is mutual understanding and overcoming differences of race, religion, and culture with warm-hearted deeds. Working with the Philippines people, I undertook the pursuit of combating prejudice and learning the value of peace.
When I was about to return home, they wept with sadness of my leaving. I too shed tears. I made a small contribution to international cooperation, but in exchange, it gave me inspiring experiences and hope of great proportion.
All the people of the earth will one day unmistakably share a smile through the power of human understanding. This is the wish that came out of my experience. The earth is the only known planet in the universe with a well of life. We human beings must all work together to protect its environment.
Praying for "peace" and "environmental preservation," I conceived this earth without any boundaries as if looked at from space. Our duty is to understand that the earth is the only "Planet of Life" and not to forget its priceless value.
I finished this work entitled "The Blue Planet of Life" in Tobe-style porcelain from my own home town, Tobe.
The hands that completed "The Blue Planet of Life" are those that enjoyed the opportunity of an experience in international cooperation. Now completed, I offer it with abundant hope on the the 50th anniversary of the United Nations."
---
Q: Tobe Pottery, what we understand, is that it is usually designed to be used in everyday life, like for bowls. But we noticed your work is rather big to what we usually see. Is there any reason for this?
When I was younger and on the training of pottery, one day, I found myself with fear that if I ever could do something else rather than making bowls or cups everyday. And I knew that making potteries is not just about the techniques but what you put in your works. I began to produce larger works and started searching for my own pottery. I believed that the clay stones of Tobe has a lot of potential.
---
Q: We assume the shipping charge to send your work to Geneva costed a lot. How did you manage it?
The shipping cost was over $ 2 million, but all the cost are paid for by Tobe town.
---
Q:What is important to become a potter?
I think anyone can be a potter. But if you want to be very good at it, it requires right stuff in you.
---
Q: What is the situation of Tobe pottery now?
Although there are many potteries and porcelain districts in Japan, lack of successors is the common worry for everyone in this industry. It is happening because most of production has been mechanized and not much work for potters to contribute. Luckily, the number of young potters is increasing in Tobe, because this particular pottery continues to maintain its taste of hand-making. And people do appreciate its way.